Meet Jay, Our Yoga Expert!
On 04/28/2016
Jay Gupta, RPh, RxYT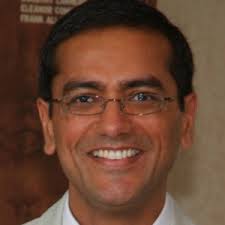 Jay Gupta is a registered pharmacist, a certified immunizer and MTM (medication therapy management) specialist. In 2015, Jay Gupta and YogaCaps, the nonprofit he co-founded, received the New Hampshire Business Review's (NHBR) Business Excellence Award. In 2013, Gupta was honored with the National Alliance of State Pharmacy Associations (NASPA) Excellence in Innovation award in recognition of his work to bridge the gap between the modern and complementary health care practices.
He began his yoga immersion in India in 1983 and has been exploring the depths of yoga since then. Throughout his life, Gupta has endeavored to achieve a scientific understanding of yoga and nature cure practices. He has traveled from the Himalayas to Kerala learning a variety of yoga and nature cure practices, and has advanced studies with yoga masters and researchers in India and the US.
He believes that yoga is for every body and mind, and aims to make it as easy as taking a capsule. Thus, in 2006, the all-volunteer non-profit organization called "YogaCaps" was born!  A yoga capsule is a "practice" capsule that is done once or twice a day and takes only a few minutes to perform with the aim of enhanced wellbeing. Over past few years, Thriving with YogaCaps (a YogaCaps' program) has organically grown into the largest and longest-standing free yoga program for people with the experience of cancer and their family members/caregivers in New England. The program also brings yoga to seniors, people using wheelchairs, and people experiencing anxiety, depression and other mental health concerns.
RxRelax is another project he conceived with the aim of educating, motivating and empowering people on the path to wellness. Given the stress and burn-out in the healthcare, using the science of yoga to serve his colleagues is his passion.
Gupta is the co-author of the DVD "Subtle Yoga for Rejuvenation (SYR)" and audio CDs "RxRelax for Insomnia" and "Relaxation Capsules".
His work commitments include assignments in India, Indonesia, Myanmar, Russia, Scotland, Switzerland, Thailand, USA and Vietnam. He is the chief faculty for a number of professional continuing education programs for healthcare professionals, and is a guest faculty member for a number of basic and advanced yoga teacher training programs. Gupta is an invited speaker and presenter at numerous health-related conferences and community events for MGH, Dana Farber Cancer Institute, Elliot Hospital, Dartmouth Hitchcock Medical Center, Indian Medical Association of New England, Massachusetts Hospital Association, Wilkes University, International Association of Yoga Therapists, Abilities Expo, etc.